It's hard to beat the sweltering heat and humidity of a Louisiana summer day if your AC system isn't working properly. If you need air conditioning repair in Chalmette, LA to get the cool air flowing again, give JMB A/C & Heating LLC a call. No matter what level of service your system needs, we're prepared to deliver it.
We specialize in working on Heil units, however we can work on and repair all brands. We strive to deliver same-day service whenever possible and have access to a huge inventory of parts to get your system back up and running efficiently as quickly as possible.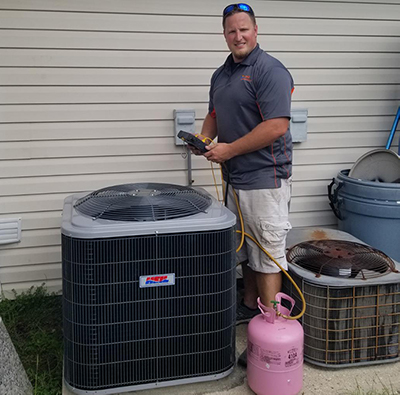 Installations

If your air conditioning installation in Chalmette, LA is more than a decade old, it might be time to consider replacing it. Today's modern AC systems are extremely efficient and utilize state-of-the-art technology to produce cooler air, more reliably. Instead of overpaying on utility bills to cool off in your home, let us introduce you to a new AC unit that'll squeeze the efficiency out of every penny.

Repairs

There's no AC unit we can't service and no repairs we can't complete. Whether your system needs part replacements, Freon charging or just a thorough cleaning, we'll assess everything thoroughly to deliver results. We stock common parts for immediate repairs and can order just about anything your system needs to get back up and running in the event of a breakdown.

Please note that we do not work on window AC units or other forms of portable cooling.

Residential & Commercial Service

While we primarily work with central air units on residential properties, we have the capability to perform service on large commercial systems as well. We've worked with homeowners and small businesses throughout the region to ensure cool, comfortable air at all times.
Get Your AC Serviced
If your AC unit is on the fritz or the time has come to replace it with a modern, efficient installation, reach out to JMB A/C & Heating LLC.
We're your all-in-one AC service provider, ensuring you're getting cool air on-demand! Reach us today at 985-290-4395.