HVAC repairs and part replacements can be expensive. But they can also be avoided with the right maintenance. Heating and air conditioning maintenance in Chalmette, Meraux, St. Bernard Parish, and New Orleans, LA takes very little time and comes with almost no cost, yet can lead to better performance, increased efficiency and lower costs from your system.
JMB A/C & Heating LLC offers home and business owners best-in-class maintenance services for heating and AC systems, helping you save money on repairs and prolong the efficient function of your system.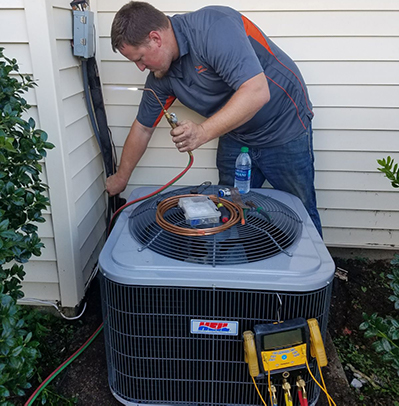 Heating & AC Maintenance

You may use your AC unit more than your furnace, but that doesn't make furnace maintenance in Chalmette, LA any less important! In fact, we believe in holistic system maintenance, which is why we deliver critical maintenance services to both heating and cooling units.

Count on us to inspect and lubricate parts, change filters, clean your system, check electrical connections, monitor airflow and more. We make sure your forced air system is equipped to handle your expectations and that any minor issues are resolved before they become bigger causes for concern.

Commercial Maintenance Plans

Commercial HVAC systems suffer heavy duress all the time. They're responsible for larger square footages and more people, which is why they're constantly put to the test. To make sure they keep passing with flying colors, we offer monthly and annual maintenance plans for commercial heating and cooling units.

Our team will come out and clean units monthly, as well as clean certain parts yearly to prevent buildups and breakdowns that may impact the efficiency of your unit.
Maintenance and Cleaning Specials
In order to make sure our customers are getting the best value, we host furnace maintenance and cleaning specials often. These specials allow you to get the critical cleaning and maintenance services you need, at a price that's easy on your budget. It's a win-win!
Staying on top of routine HVAC and furnace maintenance is the single best thing you can do for your heating and cooling installations. Don't wonder if your units are clean and fully-functional: know they are! Contact JMB A/C & Heating LLC today at 985-290-4395 to discuss maintenance plans and cleaning specials.